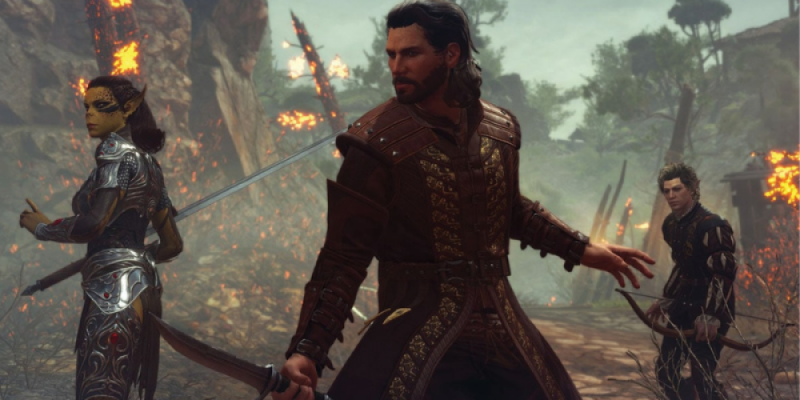 Baldur's Gate 3 is one of the most anticipated video games of the year. It's been nearly four years since Larian Studios announced its development, which is a very long time for the PC gaming scene. Consequently, players are now required to have even beefier rigs to run the game comfortably. Let's take a look at the increased system requirements for the game and what that means for players.
The game's recommended and minimum requirements have both gone up relatively slightly. The minimum requirements have been raised to an Intel I5 4690 or AMD FX 8350 processor and 8GB RAM, as well as either an Nvidia GTX 970 or RX 480 (with 4GB+ of VRAM). The recommended specs have been increased to an Intel i7 8700K or AMD r5 3600 processor and 16GB RAM, as well as either an Nvidia 2060 Super or RX 5700 XT (with 8GB+ of VRAM). In addition, the game's storage requirements have also been upped from 70GB to 150GB. Keep in mind these specs are still the absolute minimum required to enjoy Baldur's Gate 3; players will likely need higher specs to achieve optimal performance.
Interestingly, the game's main antagonist is being voiced by JK Simmons, a well-known actor. Simmons is featured as General Ketheric Thorn, a powerful necromancer leading an army of the dead towards the city of Baldur's Gate. Simmons is known for his many roles in movies, television shows, and even voice acting (including in Portal 2 and a Dota 2 announcer pack).
In conclusion, it's great that Larian Studios is taking the necessary steps to make Baldur's Gate 3 the best game it can be, but it's a bit of a damper for those who were already on edge in terms of being able to meet the original system requirements. Nevertheless, Baldur's Gate 3 is set to release on August 31 and promises to be an exciting game with an incredible story and captivating characters. All that's needed now is a beefy enough PC to run it.